 0% finance available on all of our hot tubs
Delivery included to mainland England and Wales 0% finance Available
Delivery included to mainland England & Wales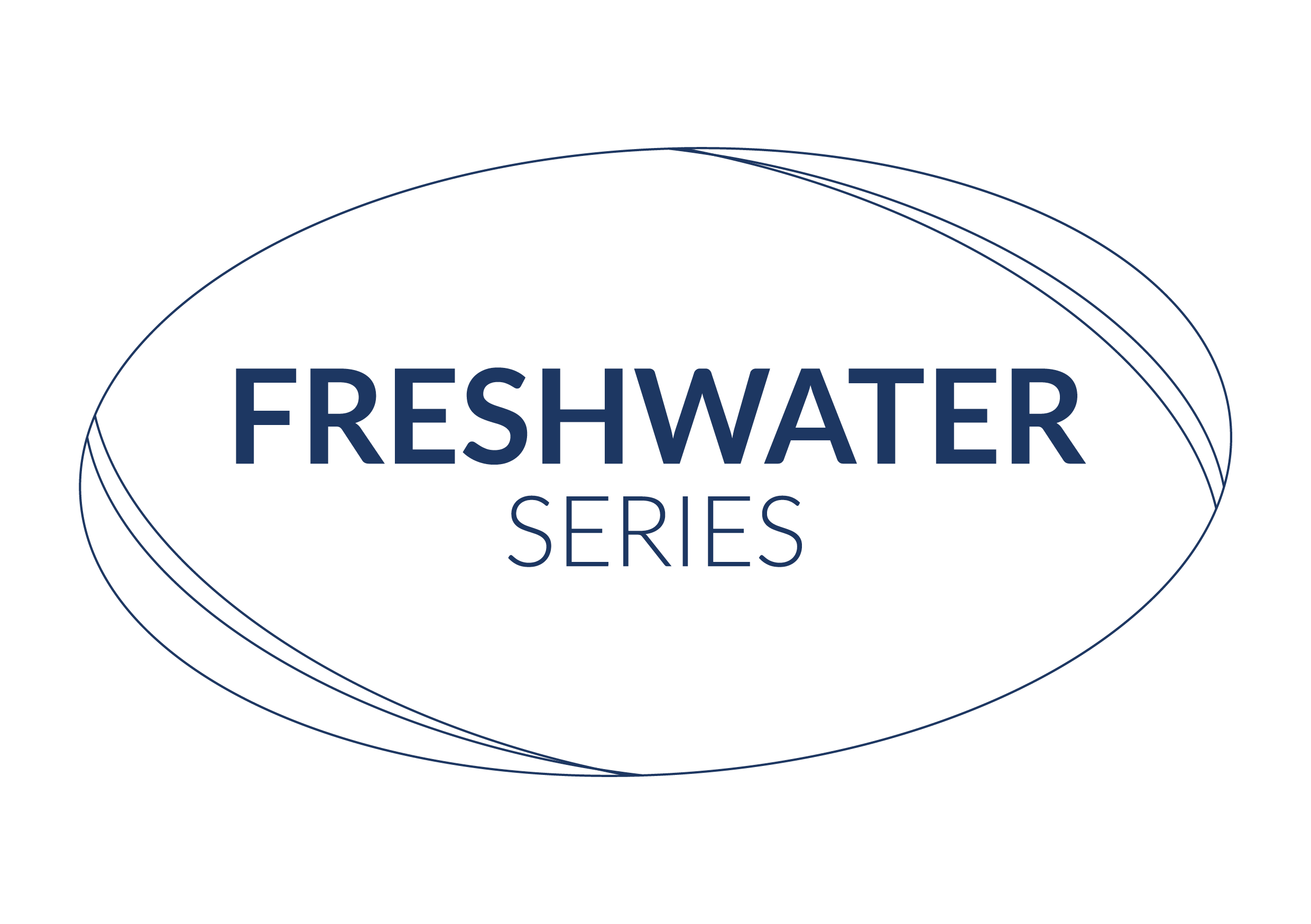 Our Freshwater Series offers the most models in our range. With various sizes and seating positions our Freshwater Series caters for a wide range of customers and outdoor areas.
All models deliver on hydrotherapy and include all the features that make the Freshwater Series a great choice.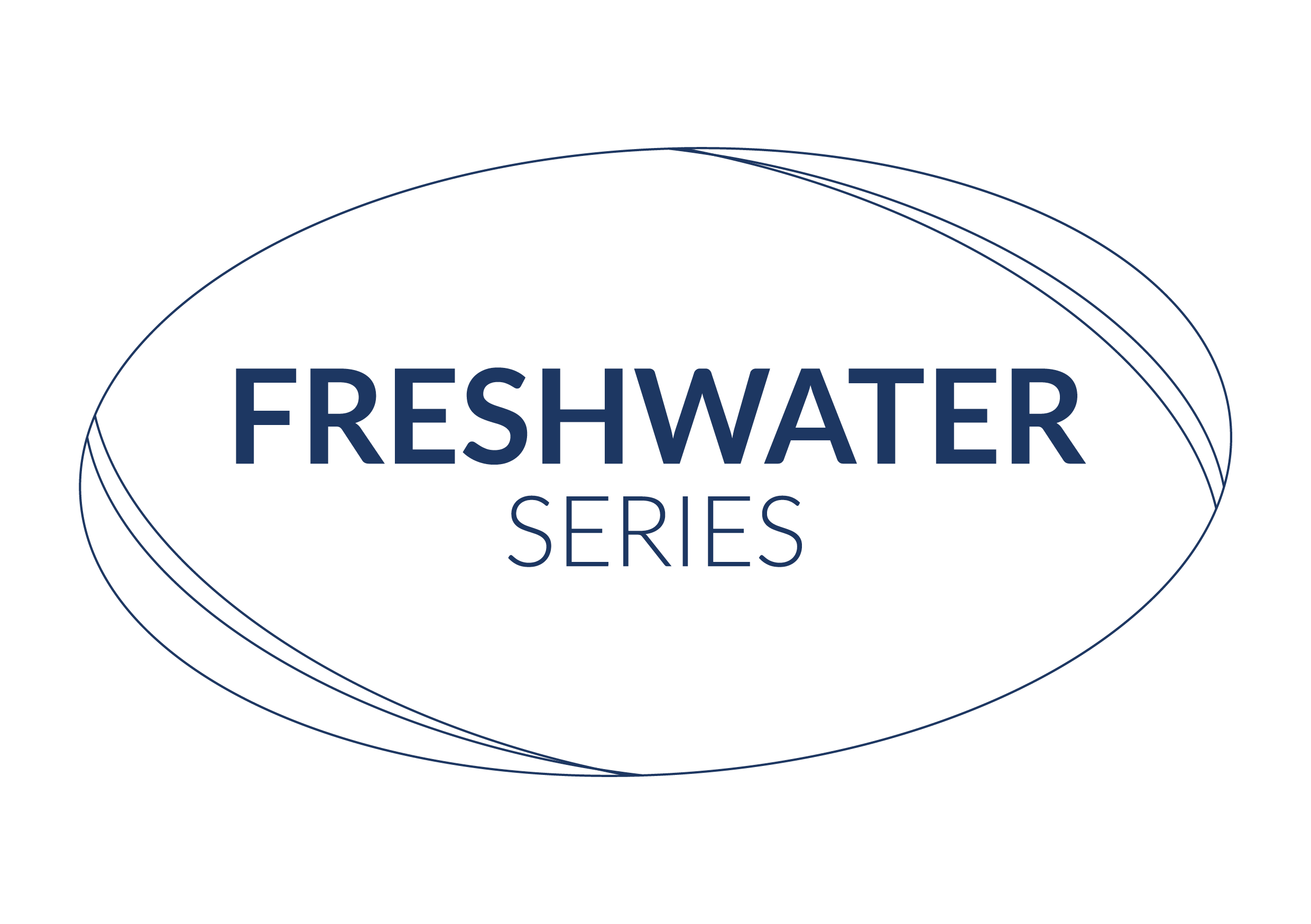 Our Freshwater Series offers the most models in our range. With various sizes and seating positions our Freshwater Series caters for a wide range of customers and outdoor areas.
All models deliver on hydrotherapy and include all the features that make the Freshwater Series a great choice.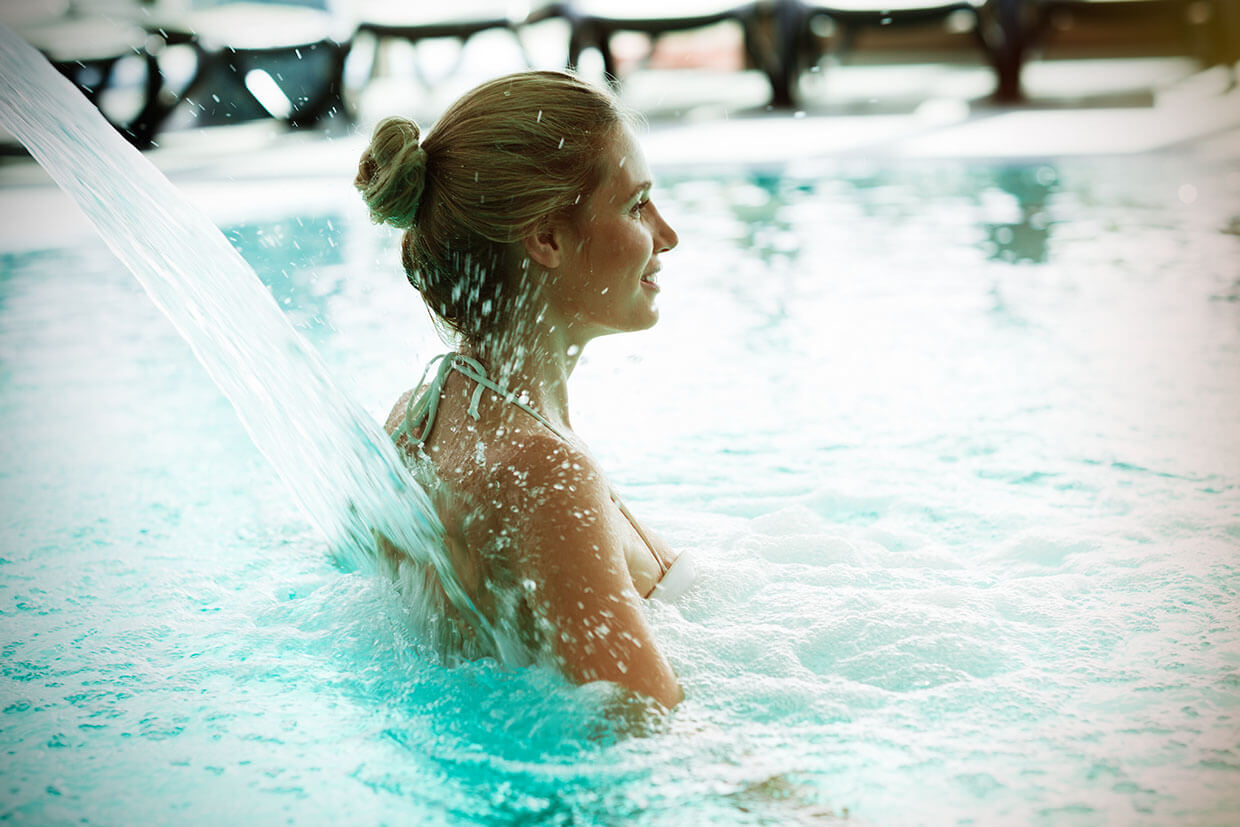 BUILD QUALITY
Our range of hot tubs are manufactured to be long lasting. All of our hot tubs come complete with a stainless steel frame and ABS base.
We use American Aristech Acrylic who are the world leader in hot tub acrylics. Internal pipework is also glued and clipped to ensure your spa does not leak and withstands heavy usage.
You can have total ease that your new hot tub comes complete with some of the best components available.
QUALITY ASSURANCE
We pride ourselves on using the best components available in the manufacturing of our hot tubs. From luxury American components to executive hydrotherapy massage pumps and jets.
Unwind in our affordable hot tub range and begin your journey to ultimate relaxation today.

ENERGY SAVING 360° INSULATION
Built with 360° insulation, our Water Series offers our customers a range of energy efficient hot tubs with optimal heat retention.
Our hot tub shells are insulated with Polyurethane. An insulating property that lies in the micro-structure of the material. Throughout the application process it produces a chemical reaction between Polyol Resin and Isocyanate creating a unique structure of gas bubbles within the material. Once solid the structure is set into place. This style of insulating has an effective protection against heat loss.
Read More
The base of our hot tubs and cabinets are fitted with Thermal Quilt insulation. This is a multi-layered, air bubble film insulation bonded with aluminium to give durability and corrosion resistance to create a fully waterproof insulation system. The aluminium coating also adds a reflective layer, reflecting heat back into the hot tub. This high performing material traps air within its structure generating low emissivity air spaces enhancing its total thermal capabilities
Our durable vinyl covers are tapered at 9-7cm to provide a run off for rain water. Also, included as standard, is a continuous heat seal that insulates the entire length of the cover hinge providing further heat retention. All Fresh Water Series covers also include 4 locking straps for added safety and security.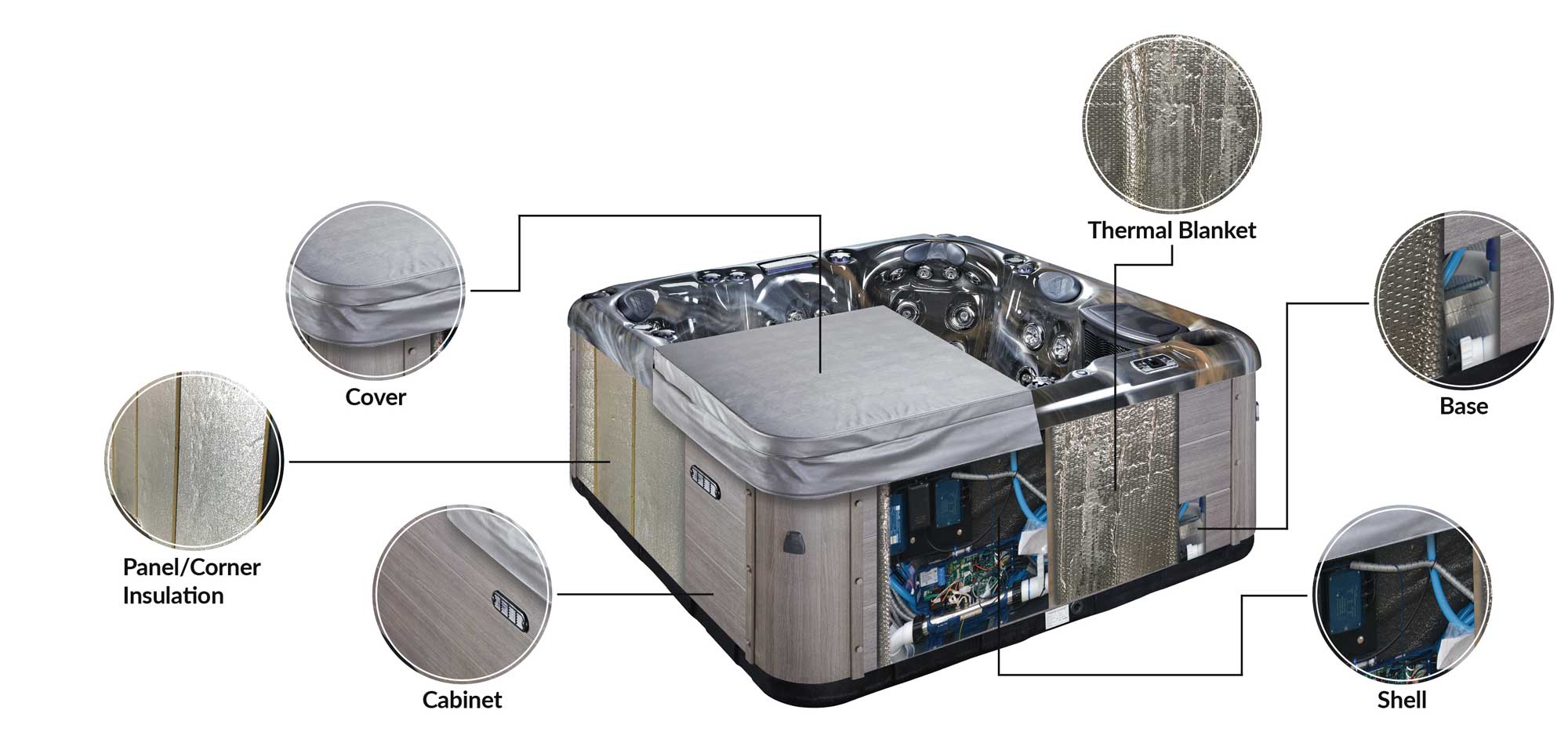 HISTORY OF HYDROTHERAPY
Hydrotherapy is derived from the Greek words
'hydro' meaning water and 'therapeia' meaning healing
It is the use of water (hot, cold, steam or ice) to relieve discomfort, treat illness, rehabilitate after injury and promote physical well-being.
The therapeutic use of water is no modern procedure and goes back hundreds of years recorded in Egyptian, Greek and Roman civilisations. Bathhouses were an essential part of ancient Roman culture. The use of steam, baths and aromatic massage to promote well-being has been documented since the first century. It was written by Roman physicians Galen and Celsus that treating patients with warm and cold baths could prevent diseases.
Read More
Bathhouses were extremely popular with the public throughout Europe during the 17th and 18th centuries. Public bathhouses made their first American appearance in the mid 1700s.
Modern hot tubs may be relatively recent but, the health benefits they provide match the principle, beliefs and understanding of something that is part of a mainstream medical science. It means that everyone can enjoy the benefits of hydrotherapy from their own home. Whether you are juggling work and family, recovering from an injury or simply needing to unwind, hot tub hydrotherapy provides both relaxation and healing.
BENEFITS OF HYDROTHERAPY
Reduces muscle tension and relieves pain
Rehabilitates injured muscles
Boosts the immune system
Encourages detoxification
Relieves stress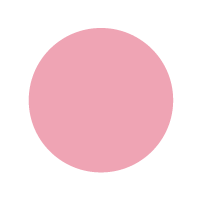 SHOULDERS
Our 3.5" Directional & Pure Inner jets are shown to improve blood circulation and help with tension, headaches and pain across the shoulders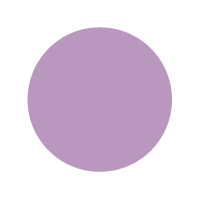 HIGH, MIDDLE & LOWER BACK
Our 3.5" & 5" Directional, Pure Inner & Twin Rotational jets provide relief for back ache and help with body relaxation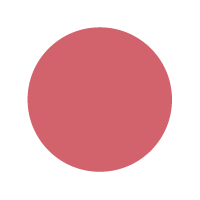 HANDS
Our 2" Pure Inner jets massage tight muscles helping to relax palms and fingers

HIPS, THIGHS, CALVES & LOWER LEG
Our 2" Pure Inner jets stimulate tight, tired muscles and help reduce pain and tension within these areas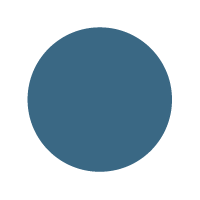 FEET
Our 7" Power jet stimulates nerve endings within the foot and helps to soothe sore tired feet leaving the body to feel fully relaxed and rejuvenated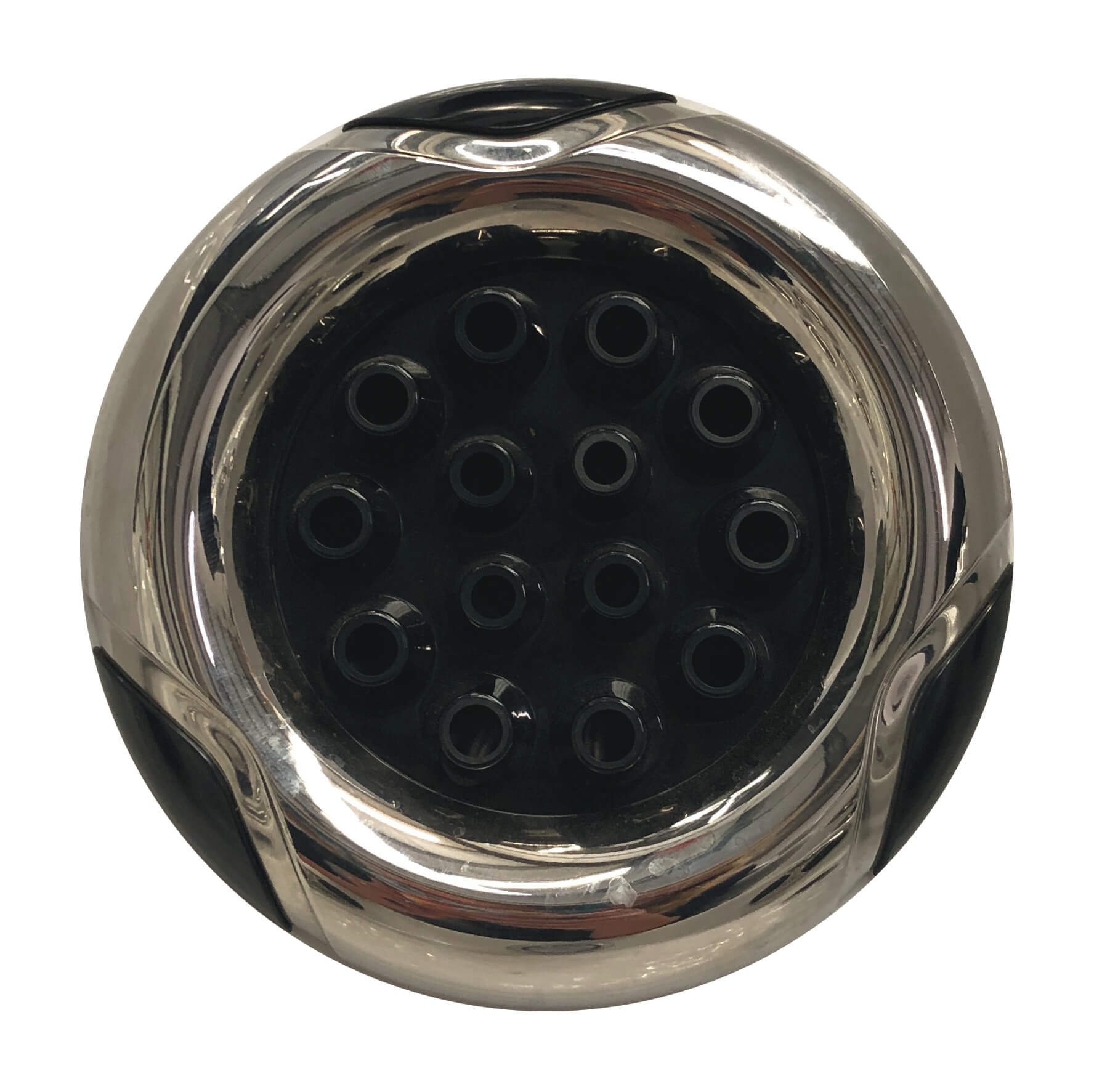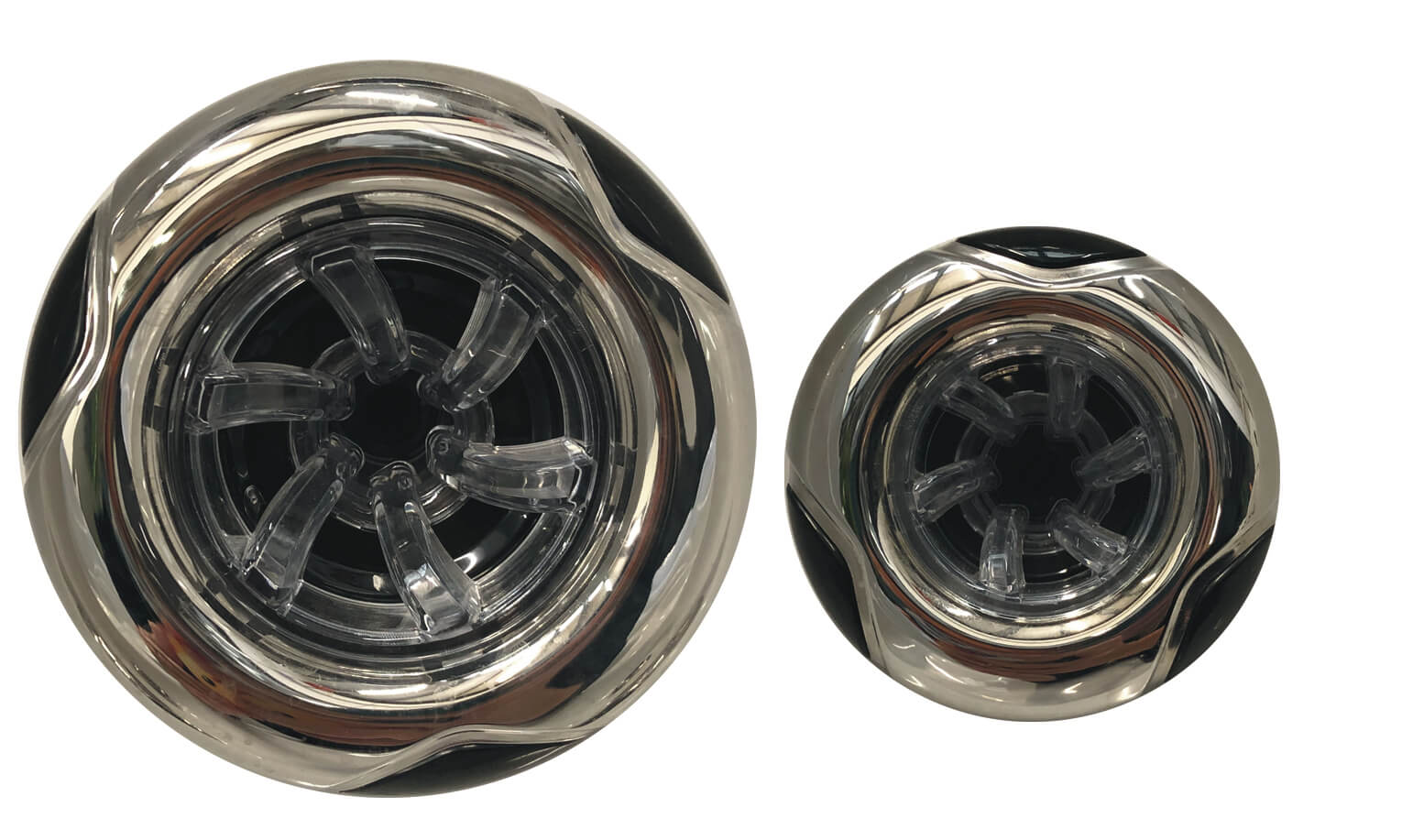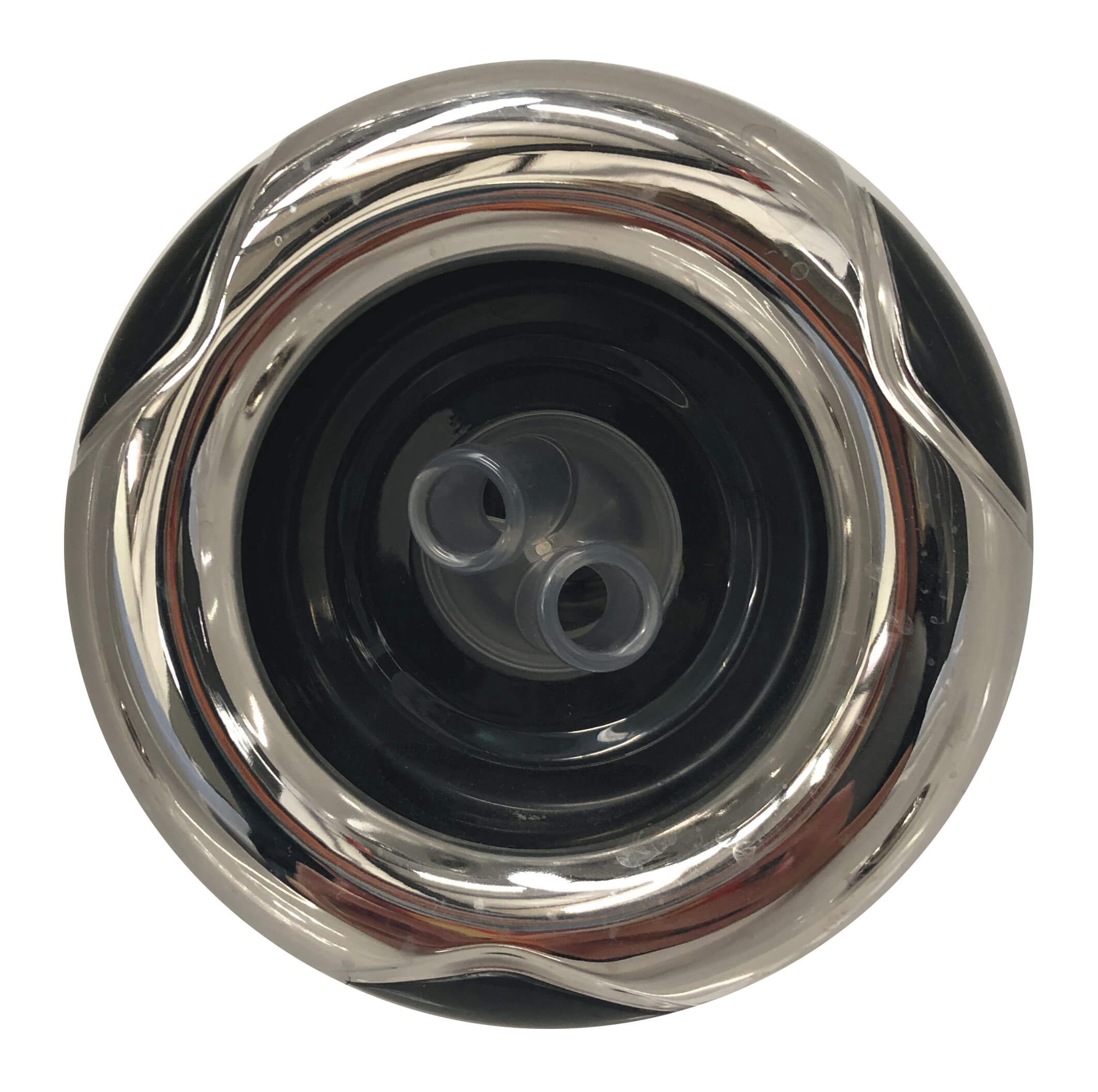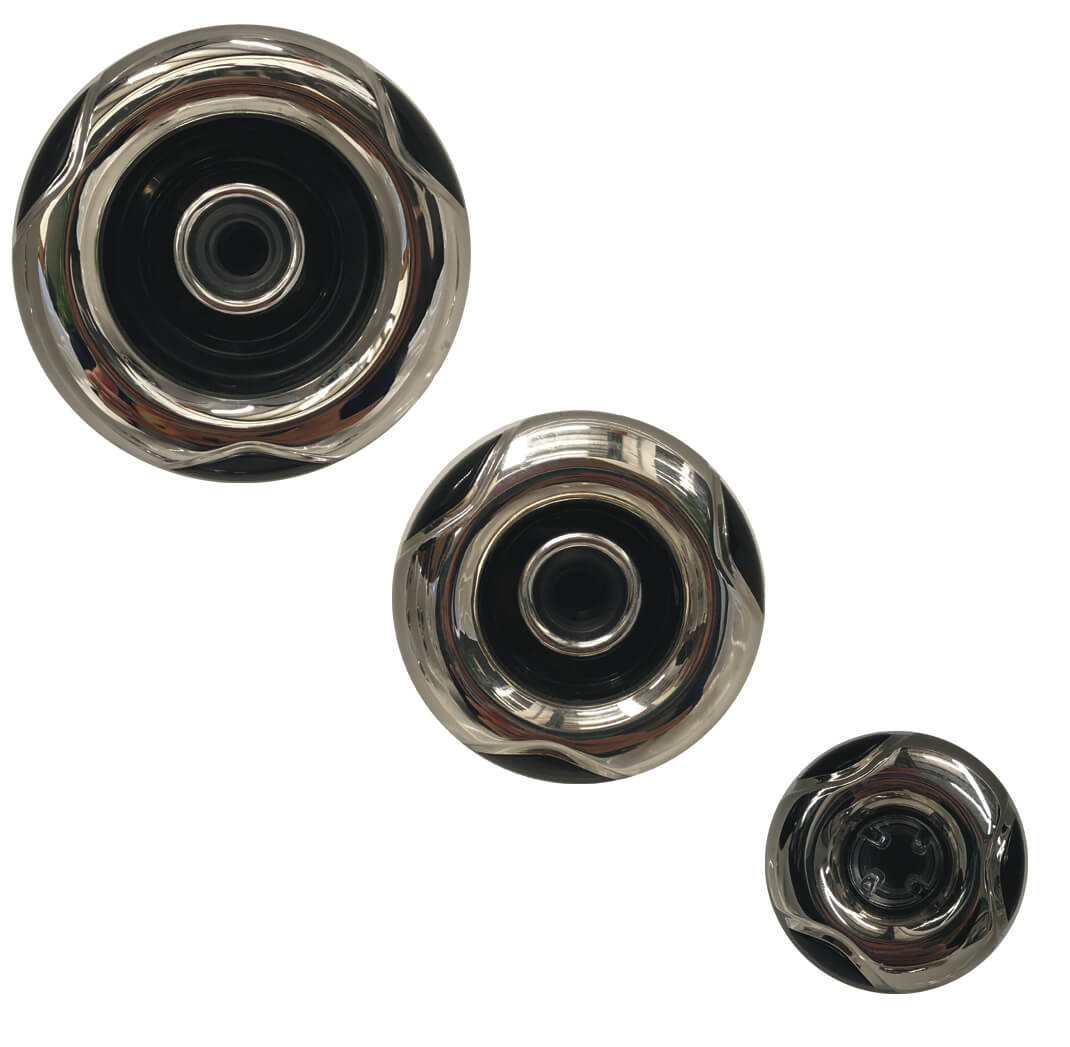 Bluetooth Audio Receiver
Corner mounted pop up speakers
Integrated ice bucket
E.V.A Comfort Headrests
SPEAKERS & BLUETOOTH
SOUND SYSTEM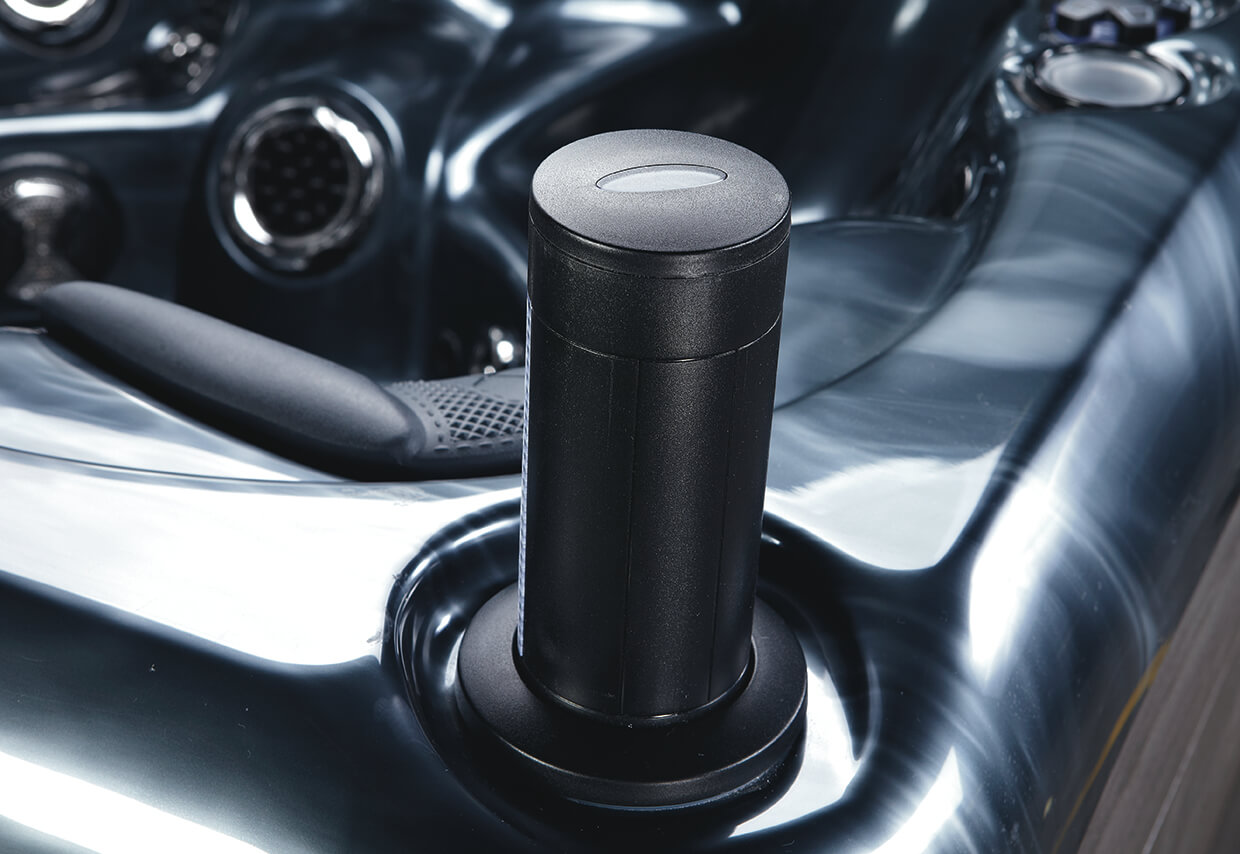 Fitted as standard, our bluetooth receiver with amplifier allows you to control your hot tubs audio system.
Our pop-up speakers are designed to allow music to be heard from anywhere around the hot tub.
Easily connect to one of your Bluetooth enabled devices (for example, smartphone or tablet), and play your favourite music.
HALO L.E.D MOOD LIGHTING SYSTEM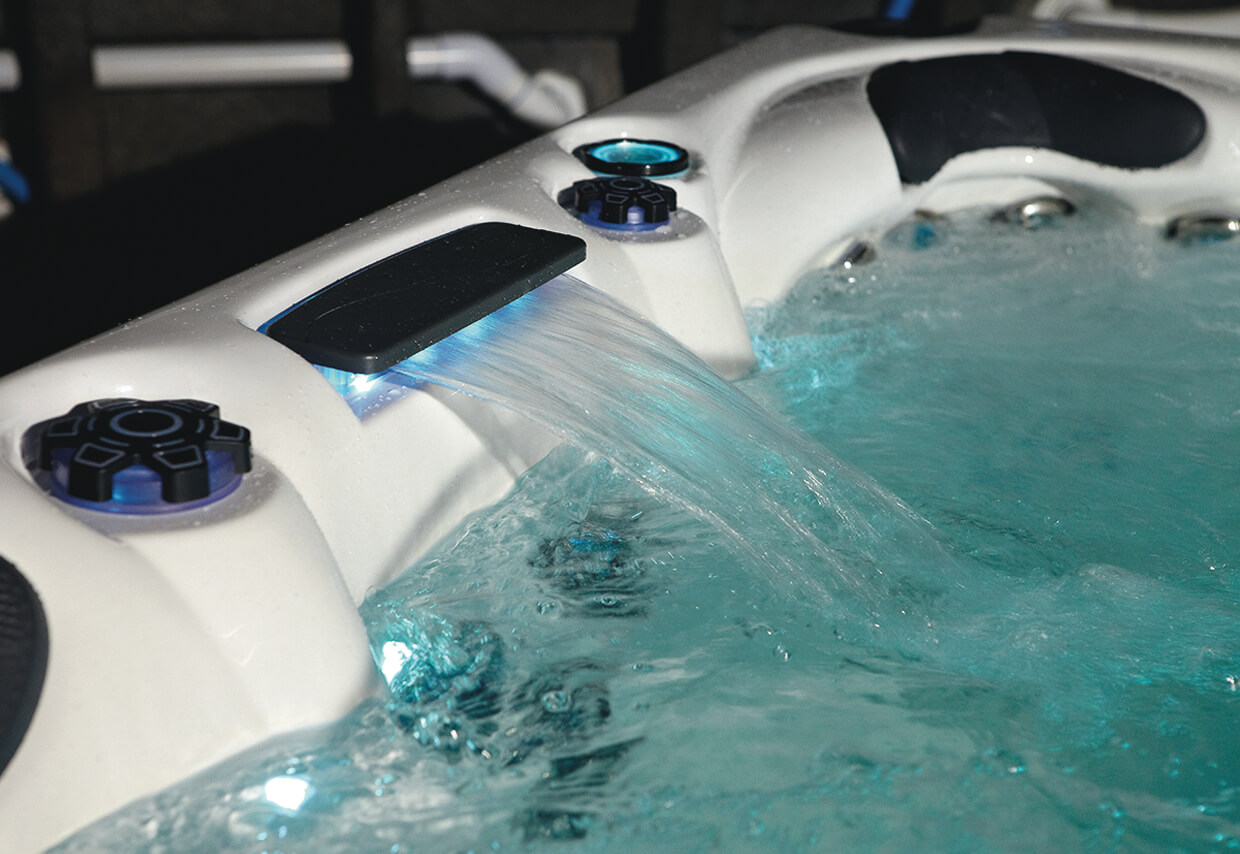 Our L.E.D lighting system not only illuminates our water features, they are also built into our jets to brighten up the whole hot tub, set to the desired colour for the perfect mood.
Exterior cabinet corners
Cup Holders
5 Inch Footwell light
Water and Air Controls
Internal Shell Perimeter lighting
3 " – 5" and 5.5" Jet Internals
Hydro Shear waterfall
Hydro Flow Fountain
Hydro River Fountain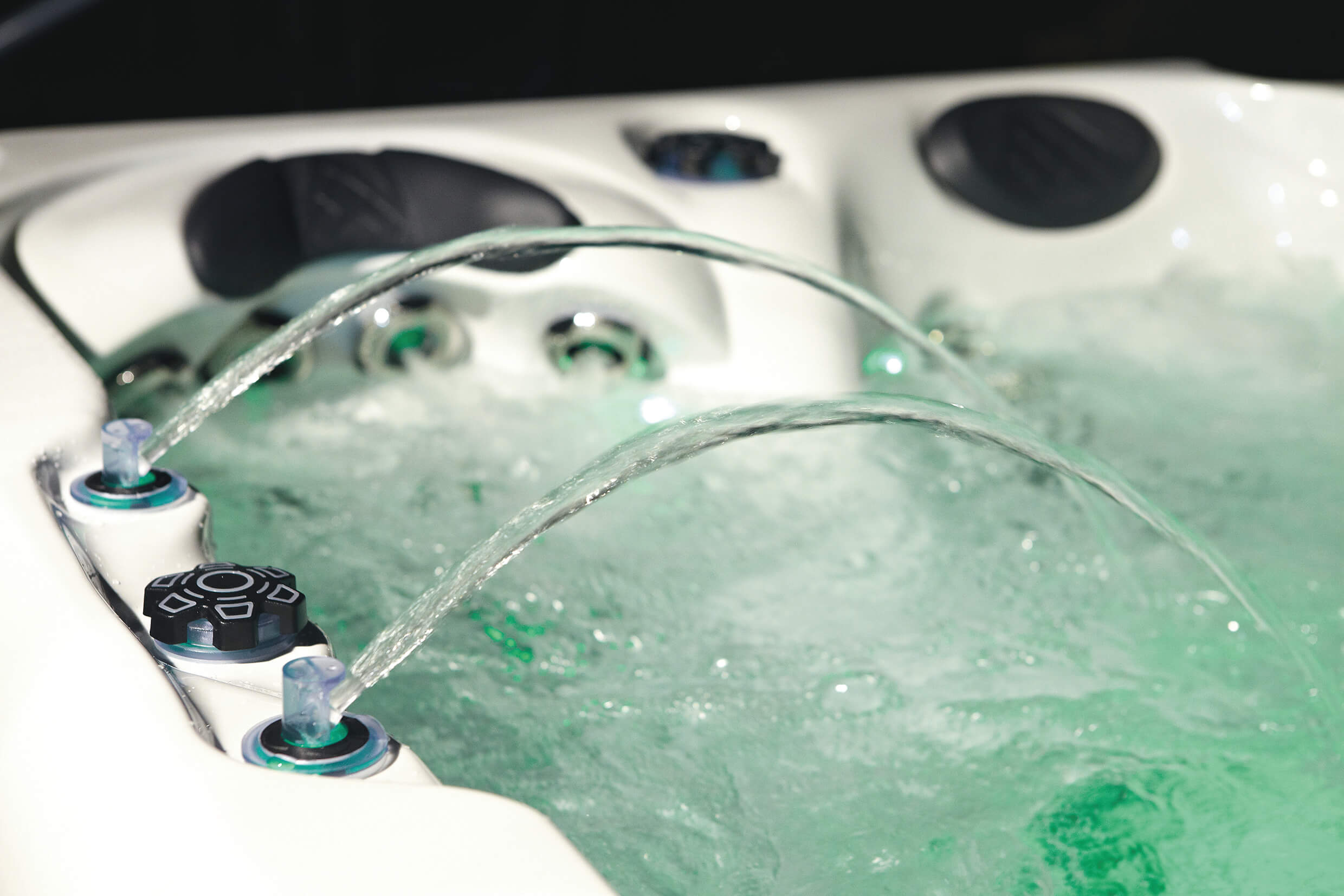 Water Features
HYDRO FLOW FOUNTAIN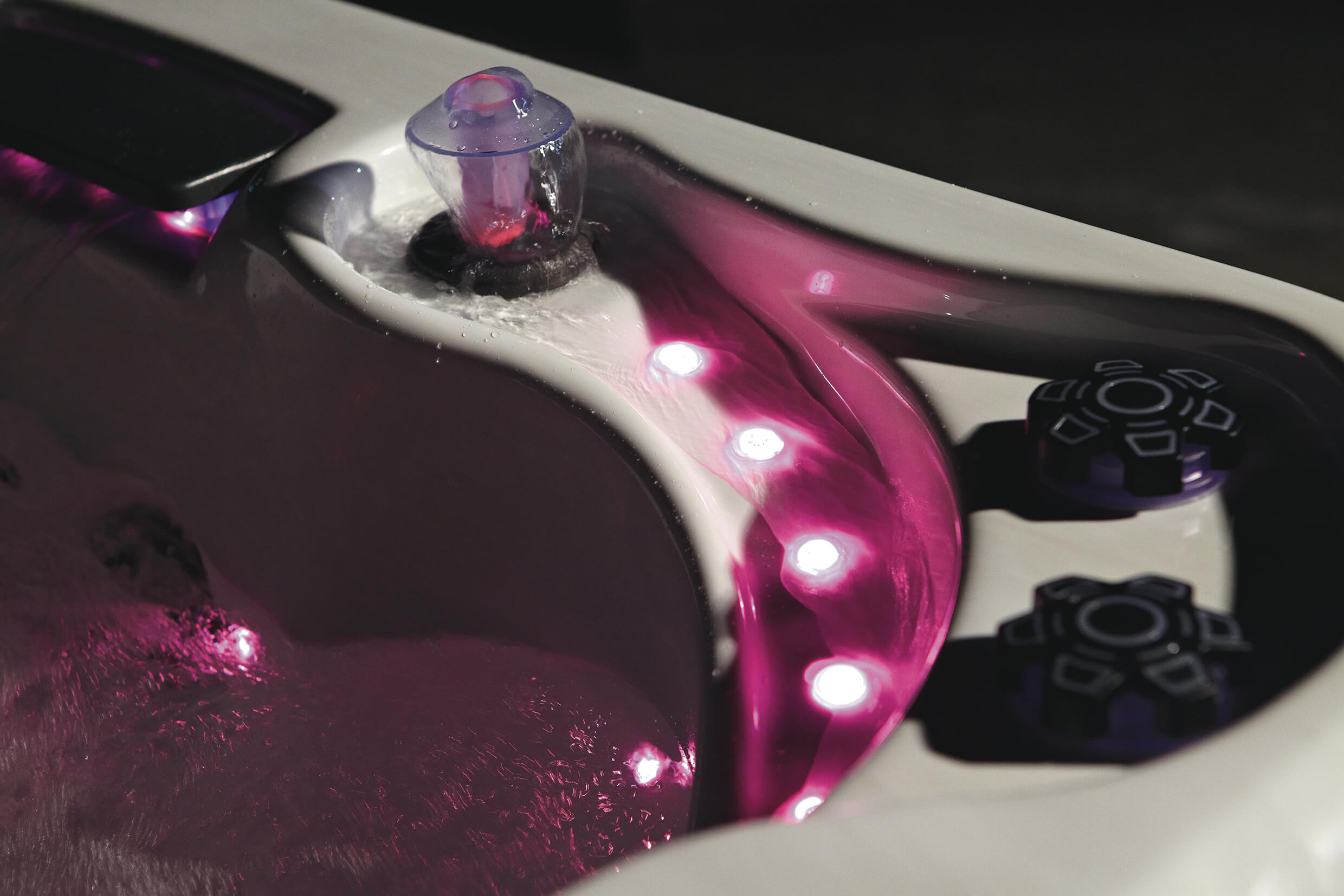 Water Features
HYDRO RIVER FOUNTAIN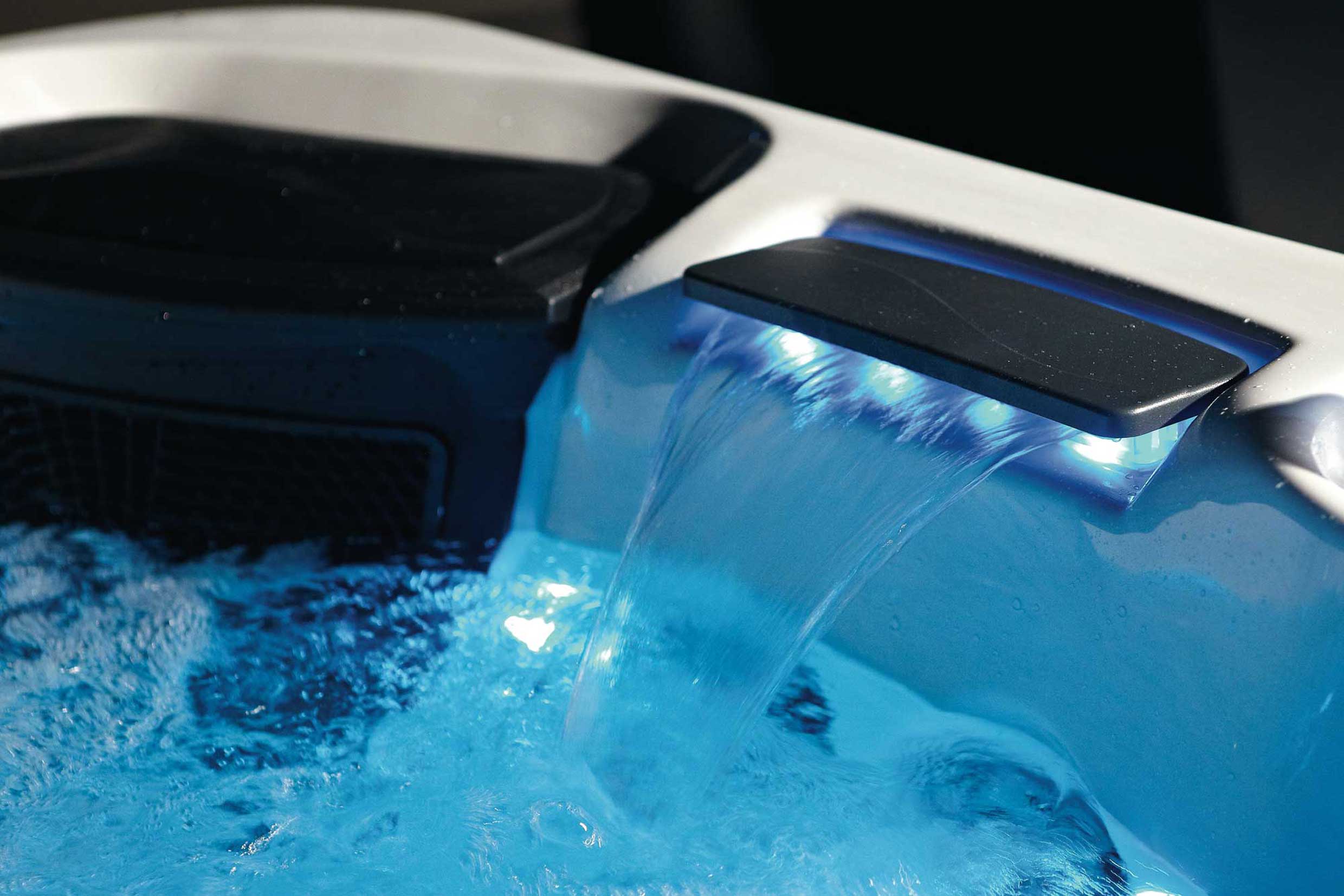 Water Features
HYDRO SHEAR WATERFALL
CIRCULATION SYSTEM
Our Freshwater Series (Bay, Lagoon, Stream & Brook) and Deepwater Series run on a dedicated, energy efficient circulation pump that keeps the water moving through the circulation system. Whilst the hot tub is heated, the water is pushed through the filter, heater and jets creating the most desired, relaxing experience. Without the circulation pumps our hot tub water would be still, quiet and the perfect environment for bacteria to grow.
Our Whitewater Series and Freshwater Series the River, are fitted with a two speed pump. Low speed keeps the water circulating and high speed is sent through the jets creating the pressure you enjoy.
FILTRATION
The hot tub circulation pump pulls in water from the surface through the filter housing. Firstly, water passes through the filter front, which removes larger debris such as leaves, then through the FWS01 micro filter, through the pump, then back into the main body of water through circulation jets. We've also incorporated the ozone generator into this, so that when the filtration is on, so is the ozone, helping to eliminate harmful bacteria.
The way FWS01 micro filters work is fairly simple: Water passes through them, trapping unwanted particles in their folds. Our hot tub filters are designed as cartridges that can be easily removed, cleaned, and replaced. Its recommended to replace these filters once a year. It's also recommended to purchase a spare set of filters, so that when they need cleaning there is always a clean set to go in their place.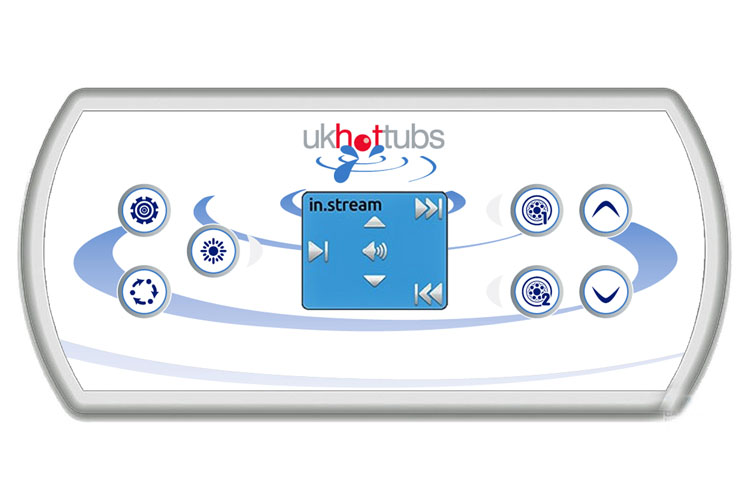 in.k500™ Full-Function Intuitive Colour Keypad
The in.k500 is built with all the great features you need to enjoy your hot tub. Discreet, compact and unobtrusively beautiful, this control panel is fitted on our Freshwater Series and Deepwater Series; Arctic.
GECKO in.touch 2
Our in.touch 2 eliminates all the complexities of connecting your hot tub to the internet and transforms your smartphone or tablet, into your ultimate mobile remote control. It comes with a state-of-the-art app and 2 pre-paired radio frequency transmitters.
The in.touch 2 state of the art app has 5 pre-set water care features that are essential to the good use of your hot tub. Each mode is easy to select, activate or modify. Using these features can lower energy costs and save you money.
For more information on our water care modes please see the links below;
In.touch 2 App – Control your spa: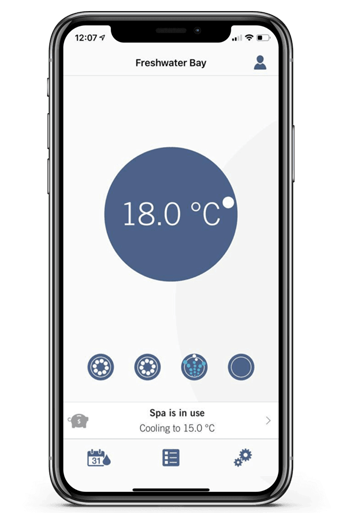 WATER CARE MODES
The water care section will help you set up your ideal filtration and healing settings. Choose a mode depending on your need.
Use the light key to choose your setting. A check mark will appear on the selected icon to confirm.
In economy mode, the set point will be reduced by 11°C, which means that the heating system will not be engaged unless the temperature falls to 11°C below the hot tubs set temperature.
Modifying your preset mode schedules, to suit your lifestyle, will help you to save energy. AWAY
In this mode the hot tub will always be in economy. The set point will be reduced by 11°C. STANDARD
The hot tub will never be in economy mode and will be filtering according to the low level configuration. ENERGY SAVINGS
The hot tub will be in economy mode during the hours of the day and resume normal mode on weekends. SUPER ENERGY
The hot tub will always be in economy mode during peak hours, every day of the week. WEEKENDER
The hot tub will be in economy mode from Monday to Friday and will run normally on the weekend*.
Preparation & Planning
The start of your hot tub journey doesn't have to be a confusing process. We've made it as simple as A, B, C.
Choosing Your Perfect Hot Tub, Upgrades and Accessories
There are many factors to consider when choosing the configuration of hot tub that is right for you and your family.
Purchase, Delivery & Installation
Whatever option you choose for the purchase, delivery & installation of your hot tub we have made the process as easy as possible. INFORMATION
Unit 50, Broadmarsh
Business & Innovation Centre
Harts Farm Way
Havant
Hampshire, PO9 1HS
T: 02392 471 073
E: info@ukhottubs.co.uk
UK Hot Tubs Ltd are a debit broker and not a lender. We offer credit facilities from a panel of lenders. Credit is subject to status, writen details on request. FSA Registration No. 782053.