 0% finance available on all of our hot tubs
Delivery included to the South of England 0% finance Available
Delivery included to the South of England
To show the effectiveness of an air source heat pump we undertook a short study on the heating efficiency over a snapshot of time to demonstrate how the air source heat pump not only used less power but also raised the temperature far quicker than an electric hot tub heater.
We used our test hot tub which is fitted with an air source heat pump. The hot tub needed a drain and refill and we decided to monitor the heating performance over a short period after the water was replenished. 
This hot tub is also fitted with the Gecko InTouch 2 system, so we were able to monitor and capture the data by way of a screen shot of the hot tubs temperatures.
We decided to see how the heat pump would perform over a five-hour period to determine the speed of heating compared to an electric heater. In general, most hot tubs are equipped with a 3kw electric heating element. For an average size hot tub this electric heating element will raise the water temperature by 2.5°c per hour.
Location of test – (Chichester, West Sussex)

Date of test – (23 January 2022)

Ambient External temperature that day – (5°c)

Model of hot tub – (Freshwater Lagoon, 1550 Litres)
After refilling the hot tub, we powered it on and took a reading of the water temperature before engaging any heating. The water temperature was 11°c. At 16:46pm we started the test. (See fig 1)
Figure 1 showing the water temperature of 11°c and the time.
We allowed the hot tub to continue heating. During this heating period we looked at the power consumption being used (see fig 2)
Figure 2 shows the actual power usage of the hot tub whilst it was heating. This shows us an amperage draw of just under 6.5 amps and an active kw power usage of a little over 1.5kw. If we compare that kilowatt draw to a standard 3kw hot tub heater we can see that we are using only half of the kilowatts compared to the standard 3kw heating element.
In addition, the kilowatt power draw of 1.554 as shown in figure 2 includes the power being used by the circulation pump. This means that you could state that the actual power draw in kilowatts of the heat pump at this time was less than half of the standard 3kw heater.
Figure 2 showing the power consumption whilst heating with the air source heat pump and hot tub circulation pump is 1.554kw.
It's fair to say then that this shows the air source heat pump is using 50% less kilowatts to heat the hot tub water in this test. 
We revisited the water temperature at 21:43pm so 5 hours after we had begun the test. We can see from figure 3 that the water temperature had risen by 14°c and was now at 25°c.
This means that the air source heat pump had increased the water temperature by 2.8°c per hour of heating. Comparing this to the standard 3kw heater that is 0.3°c gain in temperature per hour by using the air source heat pump. This means not only is the heat pump operating at half the kilowatts, but it is also heating the water faster. This will equate to an even greater energy saving as the heat pump won't be on for as long as the electric heater.
Equating that to cost we can use the cost per kilowatt hour charged at the test site. Cost per kilowatt hour is what every household is charged for their electricity consumption.
(For example, if your electricity supplier charges you £0.20p per kilowatt hour then to run an electrical item that has a power rating of 1kw, this would cost you £0.20p.)
(At the current time of the test the charge at the test location was £0.2066p per kilowatt hour.)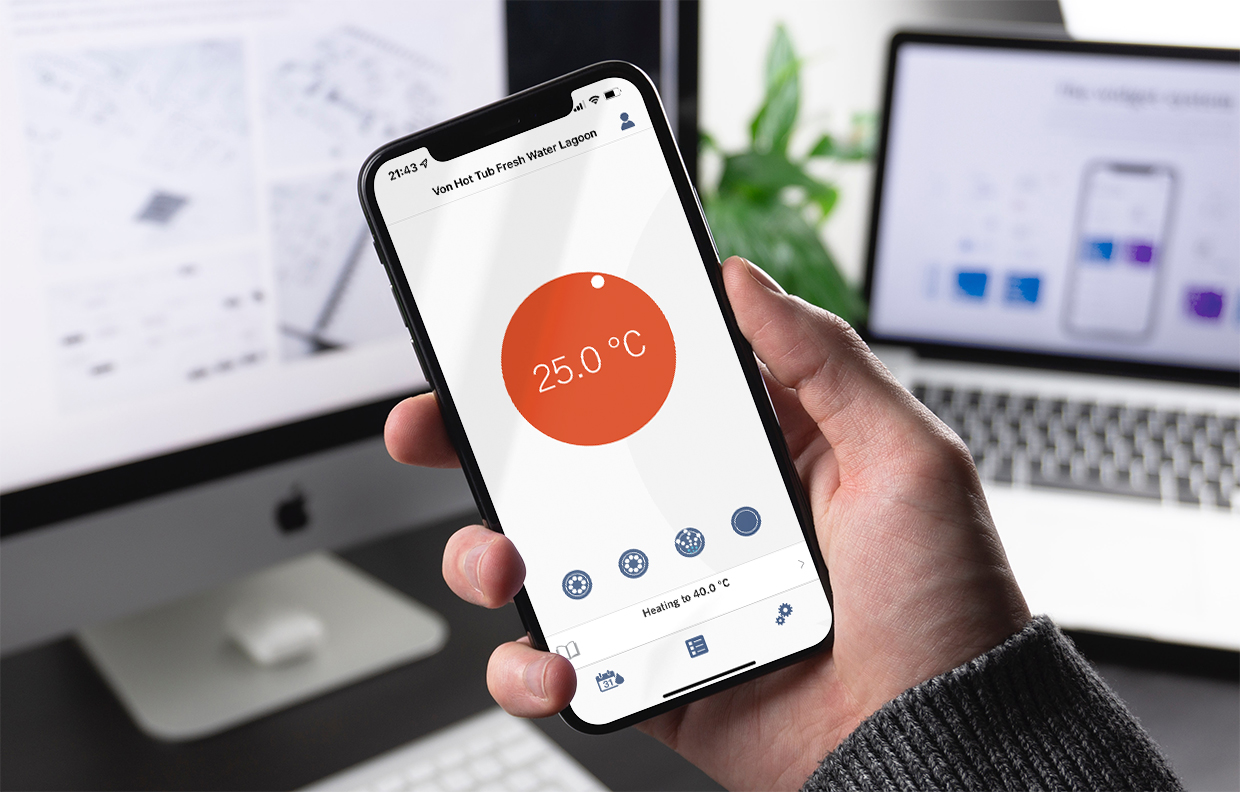 Using our data from above, the air source heat pump raised the water temperature by 14°c in 5 hours and used 7.5 kilowatts of power. The cost of this would have been £1.55 (1.5kw power draw of the heat pump x 5 hours = 7.5kw used x £0.2066) 
Compared to a 3kw electric heater if we use the 2.5°c per hour water temperature increase then this would take 5.6 hours to reach the same temperature increase of 14°c and would have used 16.8kw of energy. The cost of this would have been £3.47. (3kw power draw of electric heater x 5.6 hours = 16.8kw used x £0.2066)
This equates to a cost difference of £1.92. Whilst only a very short test this clearly shows how the air source heat pump is far more efficient than the standard 3kw electric heater. It is also important to remember that the heating test of the heat pump was undertaken in January 2022 and the ambient temperature was 5°c so this was a good real-world test. The CoP of the air source heat pump will improve with warmer ambient temperatures and the efficiency will be greater whereas the electric heater is only ever at the same level.
Whilst not a direct comparison to an electric heater we also took the data for the whole of February 2022 kilowatt consumption for the test hot tub with the air source heat pump. Figure 4 shows the total kilowatts used by the hot tub during Feb 2022.
The hot tub is set to be at 40°c bathing temperature. It is set to enter economy mode between 22:00pm – 08:00am and between 11:00am and 15:00pm. See figure 5 for economy timings.
Based on our cost per kilowatt hour of £0.2066 and total kilowatts used during the month the cost to run the hot tub for February 2022 was £44.62. Far less than it would have been using a standard 3kw electric heater.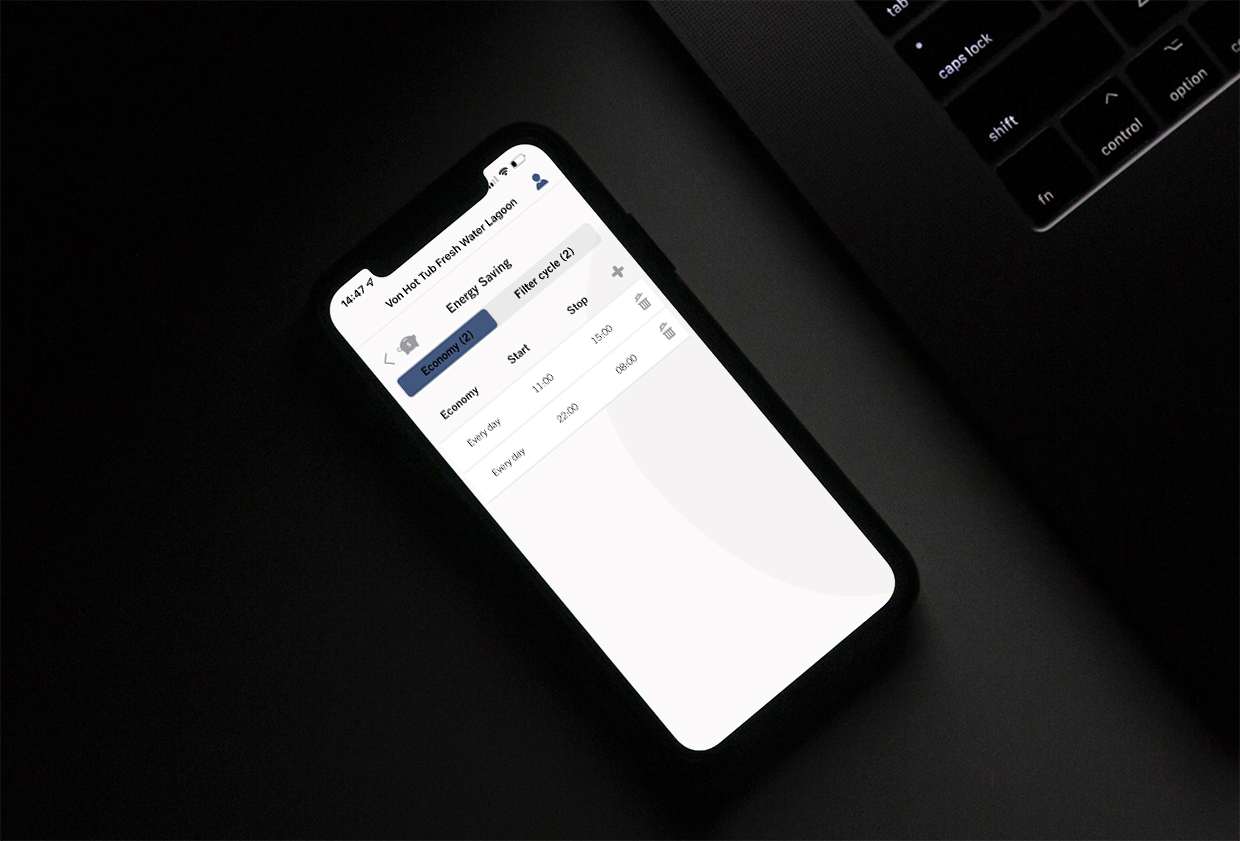 Disclaimer – Whilst the information above is based on actual real-world testing and findings, we cannot guarantee that every hot tub installation would show the same results as different charges may apply for electricity use and usage and water volume may differ. INFORMATION
Unit B1 Hazleton Interchange 
Lakesmere Road 
Waterlooville 
PO89JU
T: 02392 471 073
E: info@ukhottubs.co.uk
UK Hot Tubs Ltd are a credit broker and not a lender. We offer credit facilities from a panel of lenders. Credit is subject to status, written details on request. FSA Registration No. 782053.